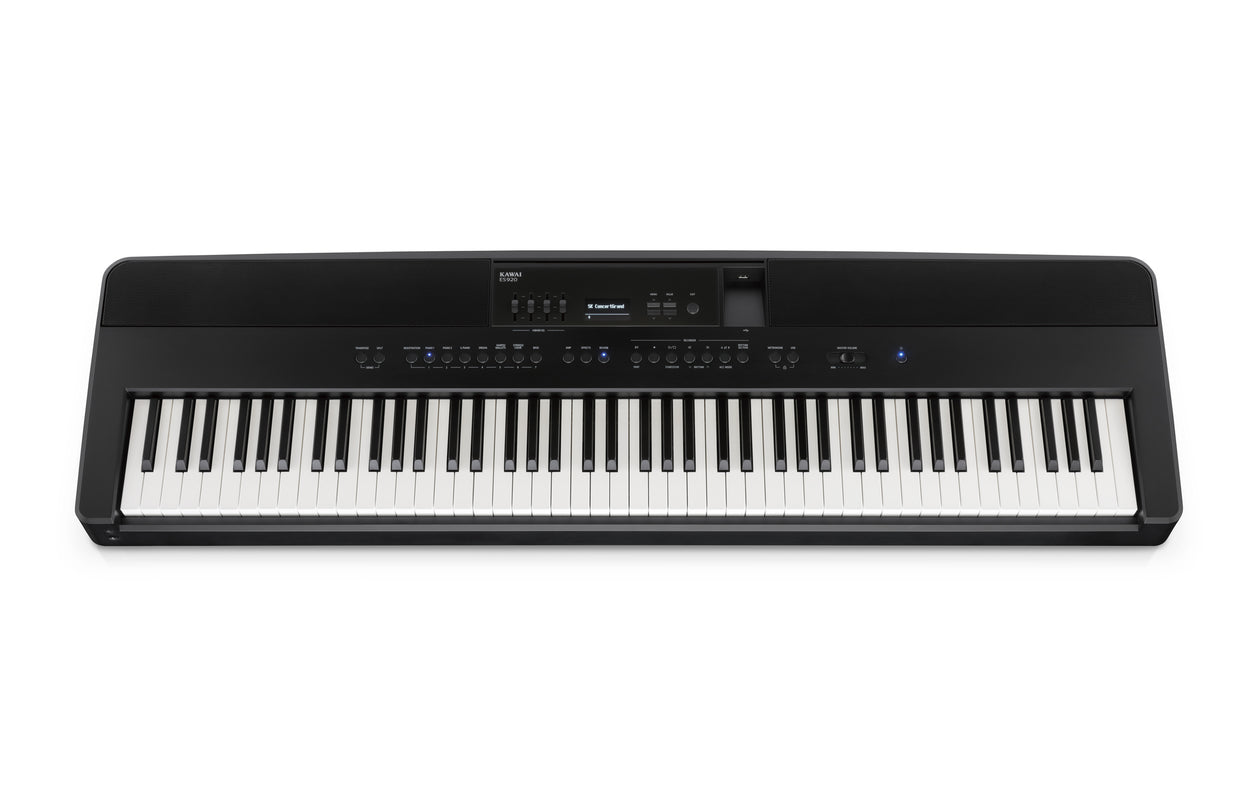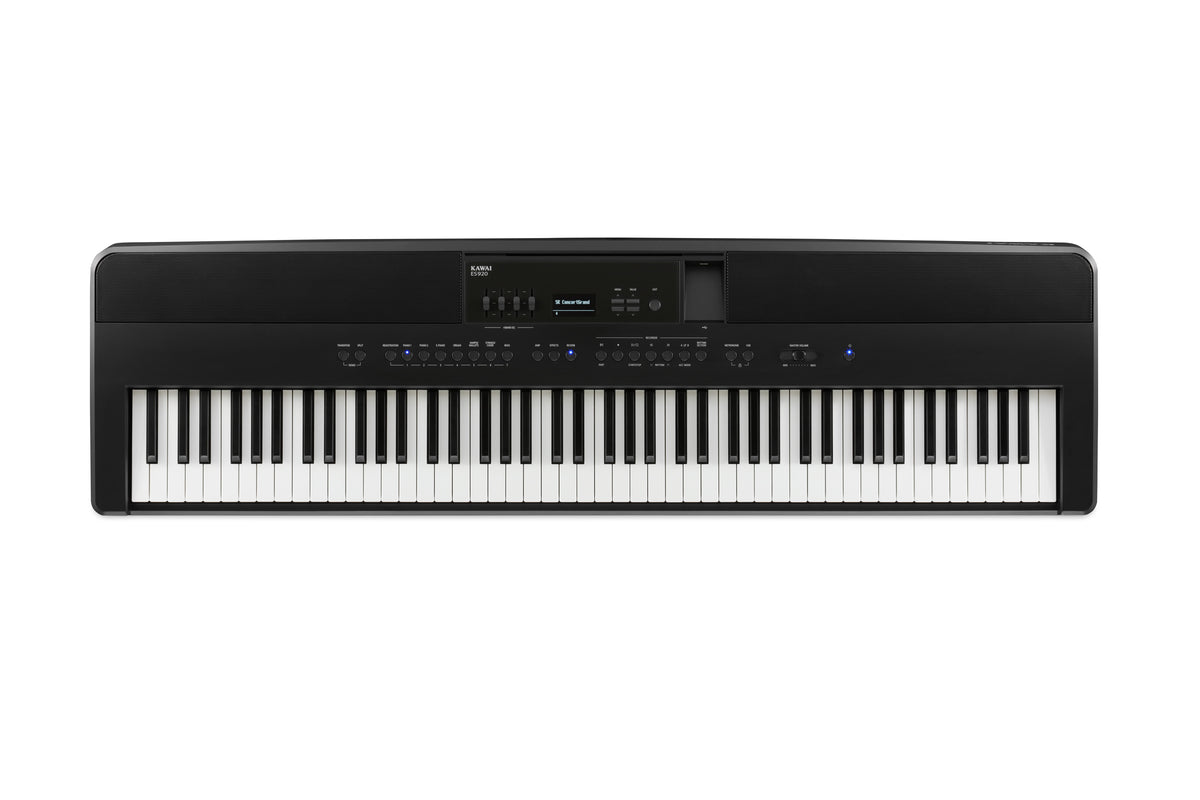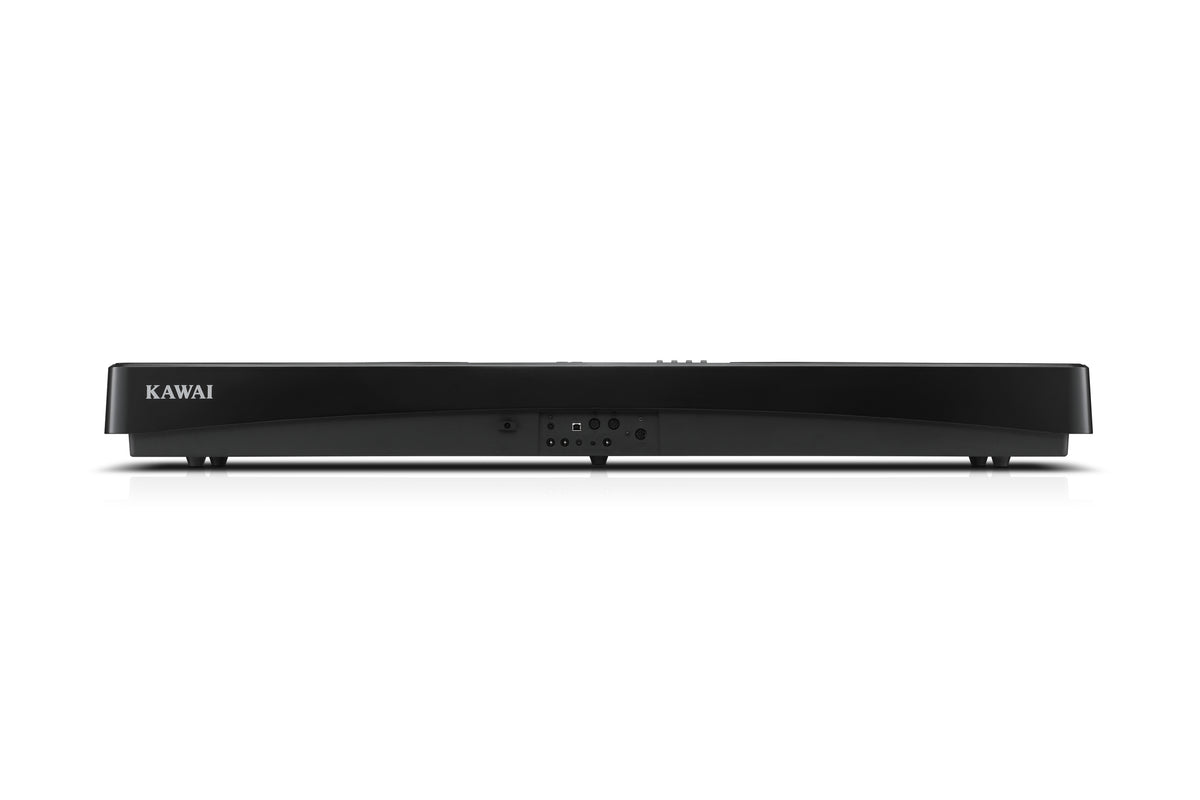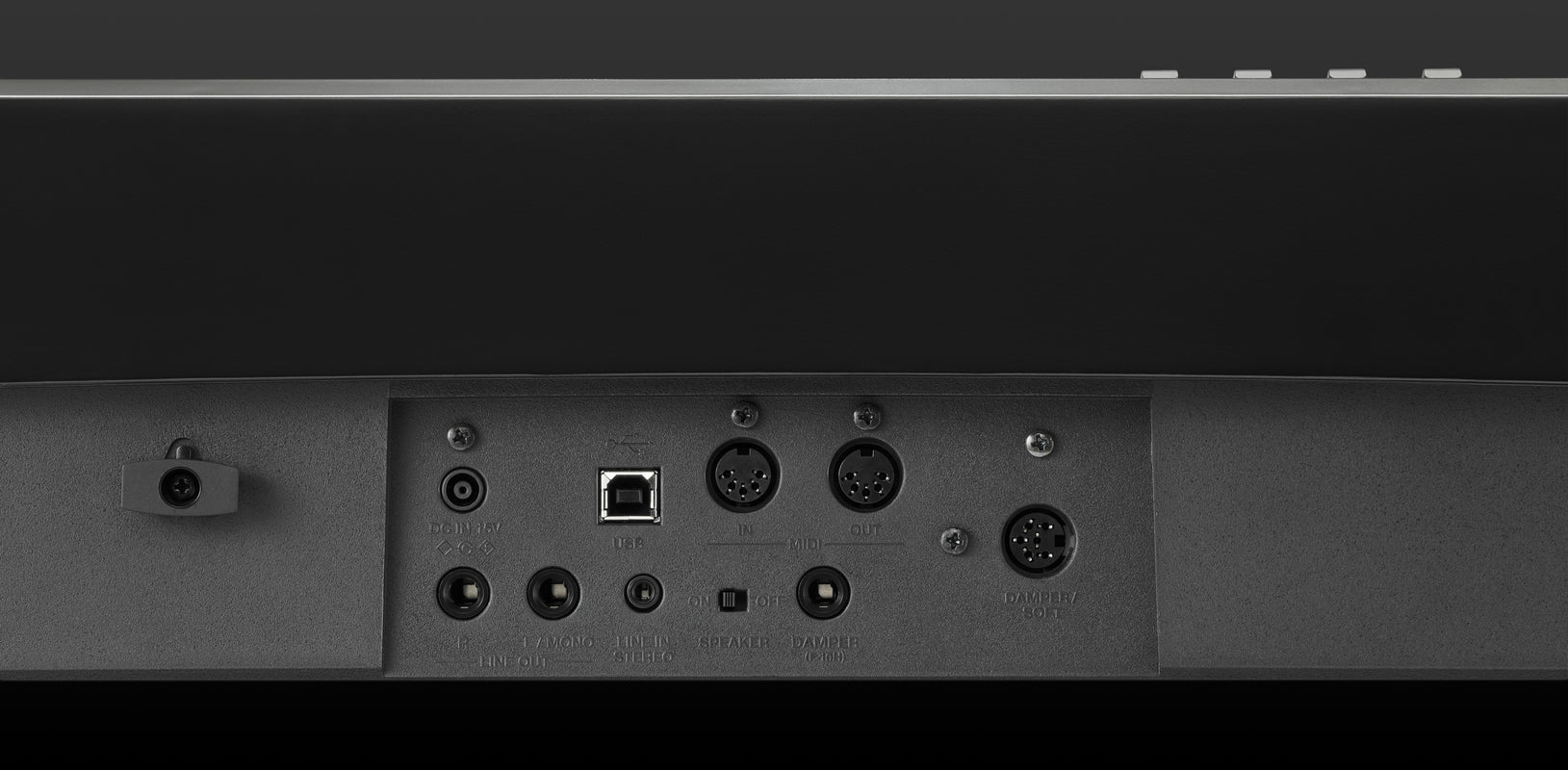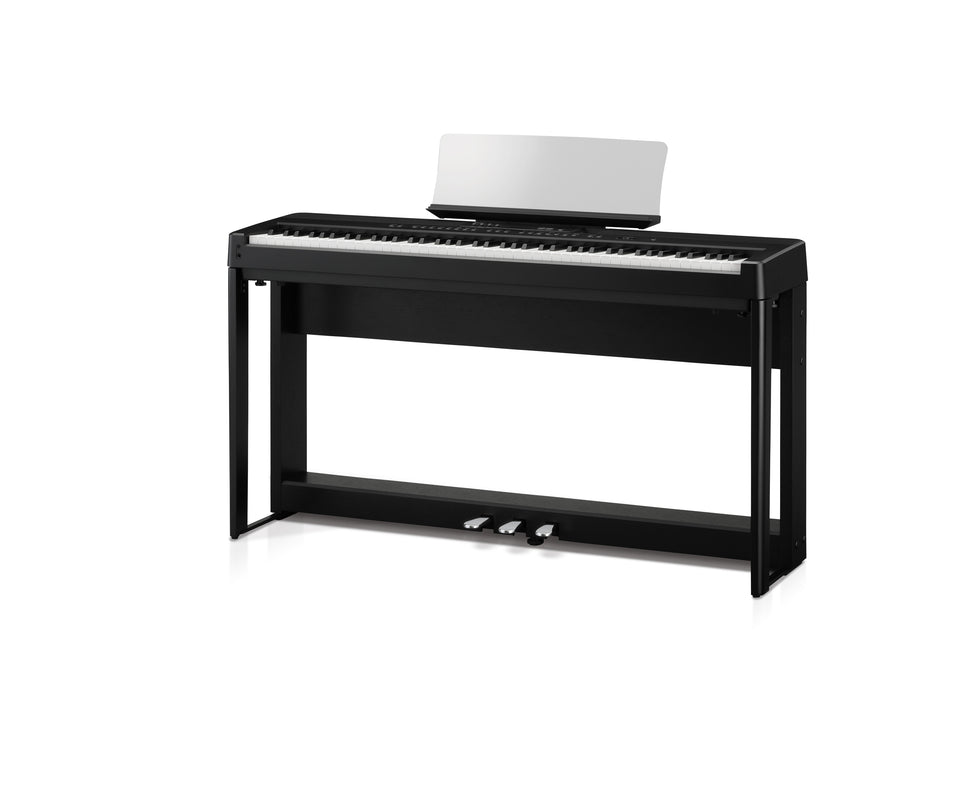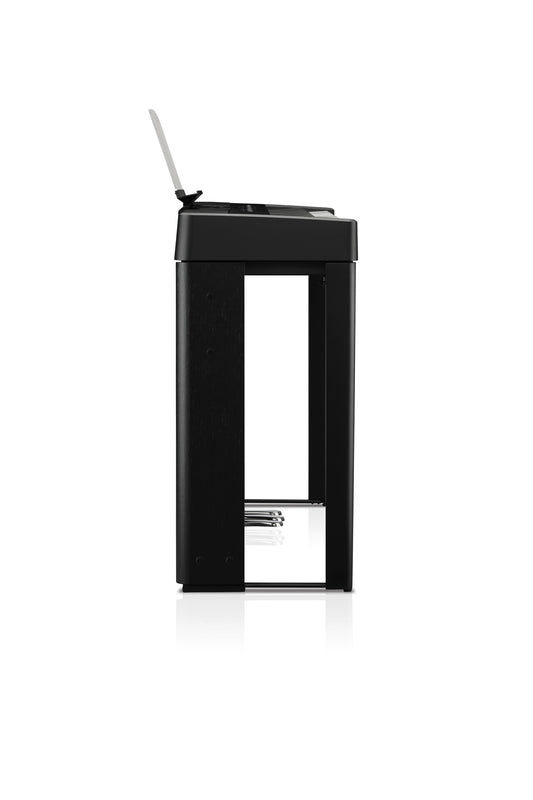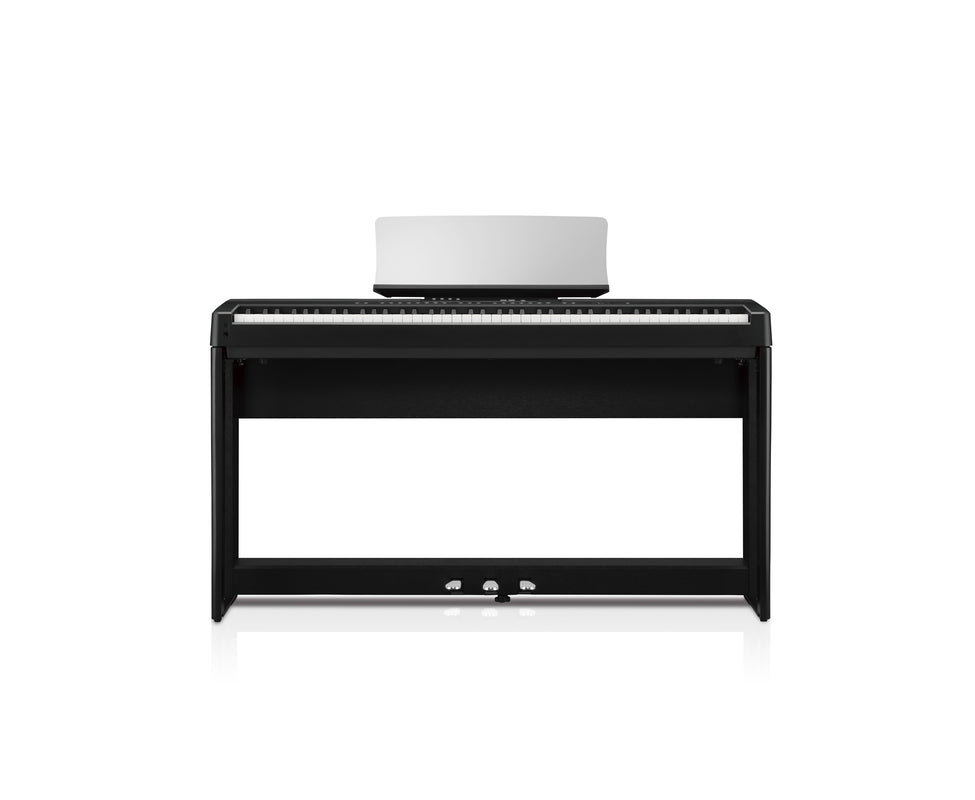 The ES920 is the latest addition to Kawai's ES range of high specification portable digital pianos, and the long-awaited successor to the extremely popular and multi-award winning ES8.
This brand new 2020 model features an improved version of the highly-regarded Responsive Hammer III keyboard action, with redesigned key switches that deliver superior durability and performance. The ES920's core acoustic piano sounds have also been refreshed for enhanced playability, with additional Virtual Technician parameters inherited from Kawai's latest Concert Artist models that allow even greater flexibility and customisation. Complementing its improved acoustic piano sounds, the ES920 also features brand new electric piano, drawbar and jazz organ, electric bass, harpsichord, and strings sounds, allowing a broad range of music styles to be performed.
As with Kawai's recent console instruments, the ES920 incorporates technologies developed in collaboration with premium audio equipment manufacturer, Onkyo, and features a new motherboard and amplification system designed to deliver richer, higher quality sound. The piano's updated control panel retains the intuitive operation of its predecessor, while adding dedicated EQ faders and a modern OLED display for enhanced real-time control. In addition to standard MIDI, USB, and audio connectors, the ES920 also supports Bluetooth MIDI and Audio functionality, allowing the instrument to be used seamlessly with Kawai's growing library of iOS and Android apps, or for audio from a smartphone or tablet to be played through the piano's premium amplifier and speaker system without additional cables.
The ES920 features a brand new exterior design and lightweight body weighing just 17 kg – almost 6 kilos lighter than its predecessor. As the most portable piano in its class, the ES920 is an excellent choice for gigging or studio musicians, yet also ideally suited to academic and religious institutions. However, when attached to the dedicated HM-5 designer stand and F-302 triple pedal bar, the ES920 is transformed into a stylish, ultra-compact piano replacement, delivering an exceptional playing experience for the lounge, office, or bedroom.
(HM-5 & F-302 available separately)
Features
ES920:

IMPROVED: Responsive Hammer III keyboard action with redesigned key switches

IMPROVED: Improved acoustic piano sounds and updated Virtual Technician parameters

IMPROVED: Enhanced Touch Curve setting with 10 selectable touch presets

NEW: Electric Piano, Drawbar and Jazz Organ, Electric Bass, Harpsichord, and Strings sounds

NEW: Motherboard developed in partnership with Onkyo for improved tonal clarity

NEW: Updated control panel with 4-band EQ faders and modern OLED graphic display

NEW: Support for latest PianoRemote control app for iOS/Android

NEW: Bluetooth MIDI and Audio functionality with aptX support for wireless audio playback

NEW: Stylish rounded case design and lightweight chassis weighing 17 kg

NEW: Modern HM-5 designer stand and F-302 triple pedal bar, support for GFP-3 triple pedal unit (AVAILABLE SEPARATELY)

ES Series
Keyboard
Responsive Hammer III (RHIII) action with Let-Off 88 weighted keys with Ivory Touch key surfaces
Sound Source
Harmonic ImagingTM XL (HI-XL), 88-key piano sampling
Internal Sound
38 sounds (PIANO x 10, E.PIANO x 6, ORGAN x 5, HARPSI/MALLETS x 4, STRINGS/CHOIR x 8, BASS x 5)
Polyphony
max. 256 notes
Keyboard Modes
Dual Mode, Split Mode, Four Hands Mode (Volume/Balance adjustable)
Reverb

Type: Room, Lounge, Small Hall, Concert Hall, Live Hall, Cathedral

Parameters: Reverb Depth, Reverb Time

Effects

Type: Mono Delay, Ping Delay, Triple Delay, Chorus, Classic Chorus, Ensemble, Tremolo, Classic Tremolo, Vibrato Tremolo, Auto Pan, Classic Auto Pan, Phaser, Classic Phaser, Compres

Parameters: Dry/Wet, Time, Speed, Feedback, HighDamp, Depth – Parameters dependent on effect.

Amp Simulator

Type: S.Case I, S.Case II, L.Cabinet

Parameters: Drive, Level, EQ Low, EQ High

Virtual Technician

Touch Curve: Light 1/2/3/4, Normal, Heavy 1/2/3/4, Off (Constant), User Touch Curve

Voicing: Normal, Mellow 1, Mellow 2 , Dynamic, Bright 1, Bright 2, User Voicing

Resonance, Noise & Effects: Damper Resonance, Damper Noise, String Resonance, Undamped String Resonance, Cabinet Resonance, Key-off Effect, Fall-back Noise, Hammer Noise, Topboard Simulation, Decay Time, Release Time

Temperament & Tuning: Equal, Pure Major, Pure Minor, Pythagorean, Meantone, Werckmeister, Kirnberger, User Temperament, Temperament Key, Stretch Tuning, User Tuning

Others: Hammer Delay, Minimum Touch, User Key Volume, Half-Pedal Adjust, Soft Pedal Depth

Internal Recorder
10 song, 2 track recorder – approximately 90,000 note memory capacity
USB Functions

Playback: MP3, WAV, SMF

Record: MP3, WAV

Others: Overdubbing, Convert Song to Audio, Load Internal Song, Save Internal Song, Save SMF Song, Load Registration, Save Registration, Load Startup Setting, Save Startup Setting, Rename File, Delete File, Format USB

Metronome
1/4, 2/4, 3/4, 4/4, 5/4, 3/8, 6/8, 7/8, 9/8, 12/8 (Volume/Tempo adjustable)
Rhythm Section

Styles: 100 rhythms (x 2 variations), 4-part accompaniment, 100 preset chord sequences

Settings: Rhythm Volume, Auto Fill-in, One Finger Ad-lib, ACC Mode, Preset Chord, Rhythm Parts Select

Demo Songs
Main demo song, Rhythm Section demo song, 25 sound demo songs
Registrations
28 memories (7 x 4)
Other Settings & Functions
Key/Song Transpose, Tone Control (incl. Brilliance, UserEQ), Wall EQ, Speaker Volume, Low Volume Balance, Phones Volume,
Line Out Volume, Audio Recorder Gain, Tuning, Damper Hold, GFP-3 Mode, Four Hands, Startup Setting, Factory Reset, Auto Power Off, Auto Display Off, Lower Octave Shift, Lower Pedal On/Off, Split Balance, Layer Octave Shift, Layer Dynamics, Dual Balance, SHS Mode, Phones Type, MIDI Channel, Send PGM#, Local Control, Transmit PGM#, Multi-timbral Mode, Channel Mute, Bluetooth Audio, Bluetooth Audio Volume, Bluetooth MIDI, Speakers On/Off
Display
128 x 64 pixel OLED
Pedal
F-10H damper pedal (with half-pedal support
Bluetooth
Bluetooth (Ver. 4.1; GATT compatible)
Bluetooth Low Energy MIDI Specification compliant, Bluetooth Audio
Connectors
LINE IN (1/8″ STEREO), LINE OUT (1/4″ L/MONO, R [unbalanced]), Headphones x 2 (1/4", 1/8"),
MIDI (IN/OUT), USB to Host, USB to Device, DAMPER (for F-10H), DAMPER/SOFT/SOSTENUTO (for GFP-3/F-302)
Speaker System

Speakers: (8x12cm) x 2

Output Power: 20W x 2

Power Consumption
18 W (PS-154 AC adaptor)
Dimensions (Not including music rest)

1340 (W) x 375 (D) x 145 (H) mm

523/4″ (W )x 142/3″ (D) x 52/3″ (H)

Weight
17.0 kg / 37.5 lbs.
* Availability of Bluetooth function dependent on market location.
Specifications are subject to change without notice.