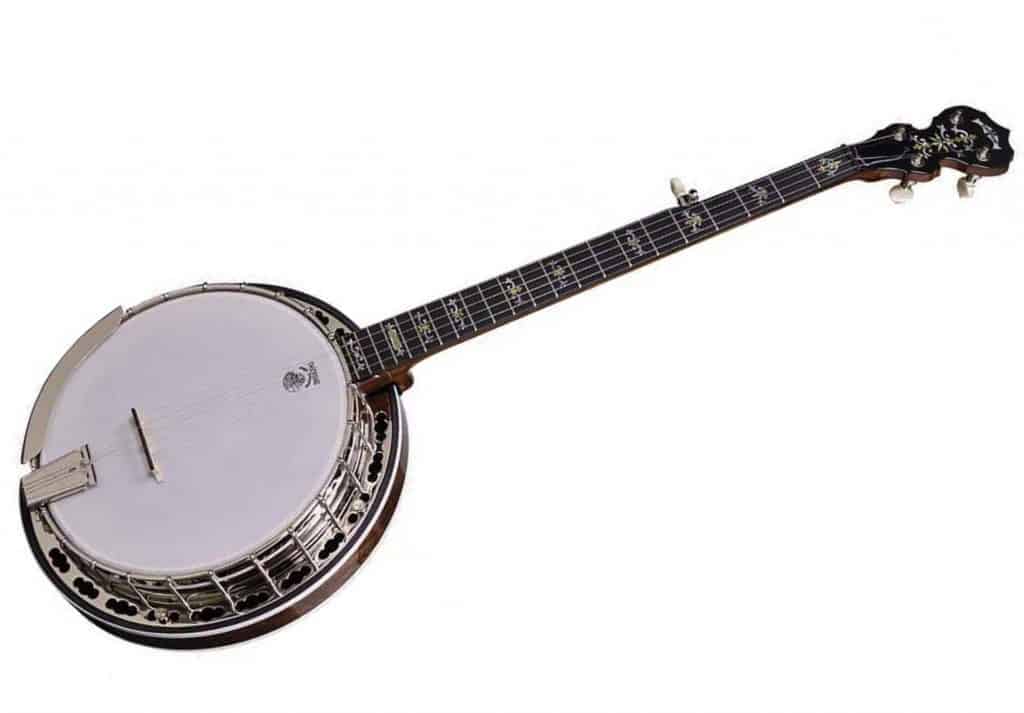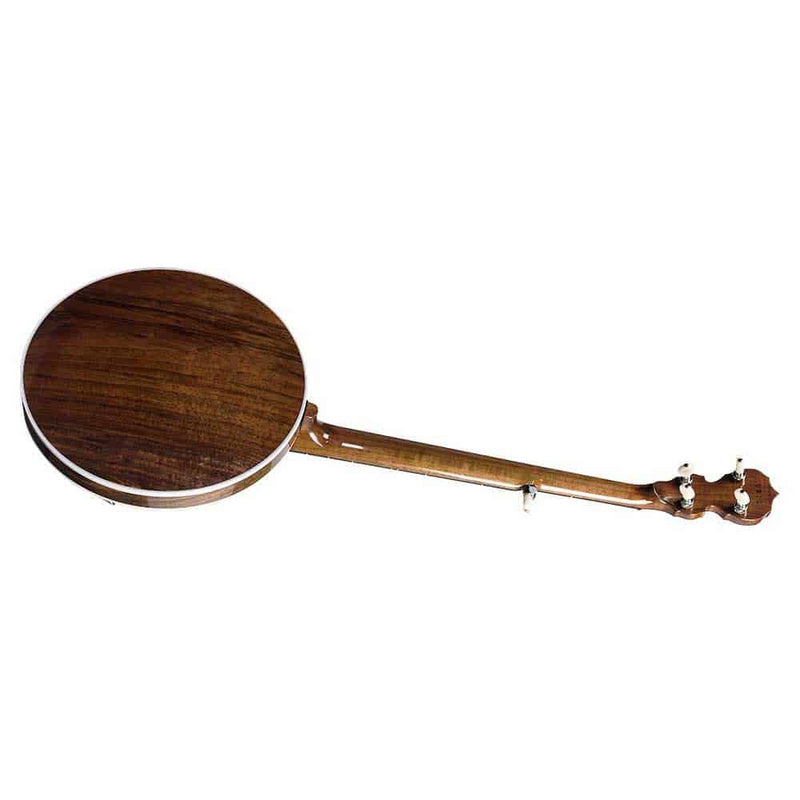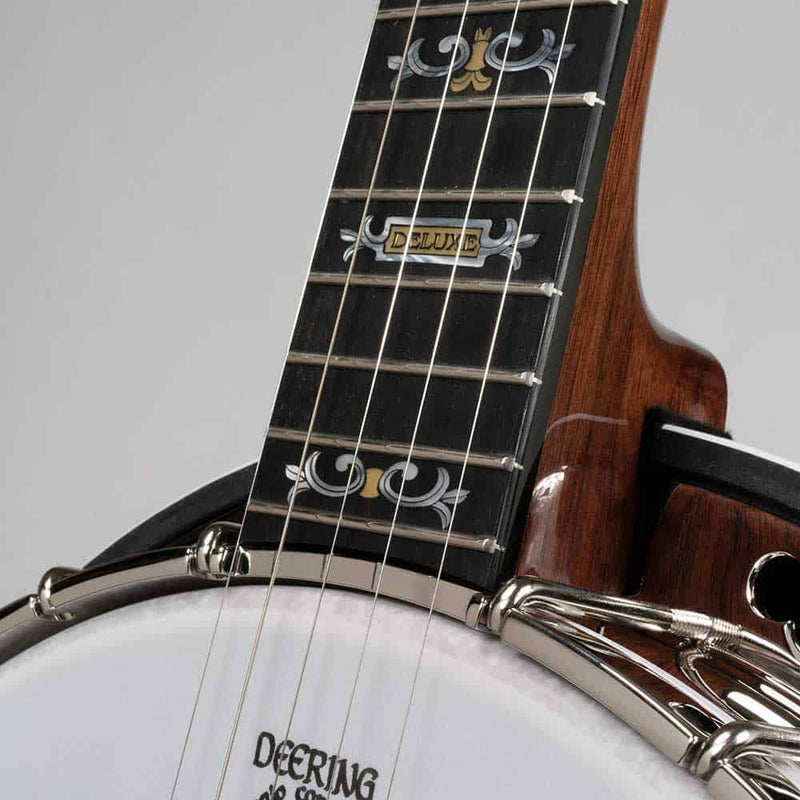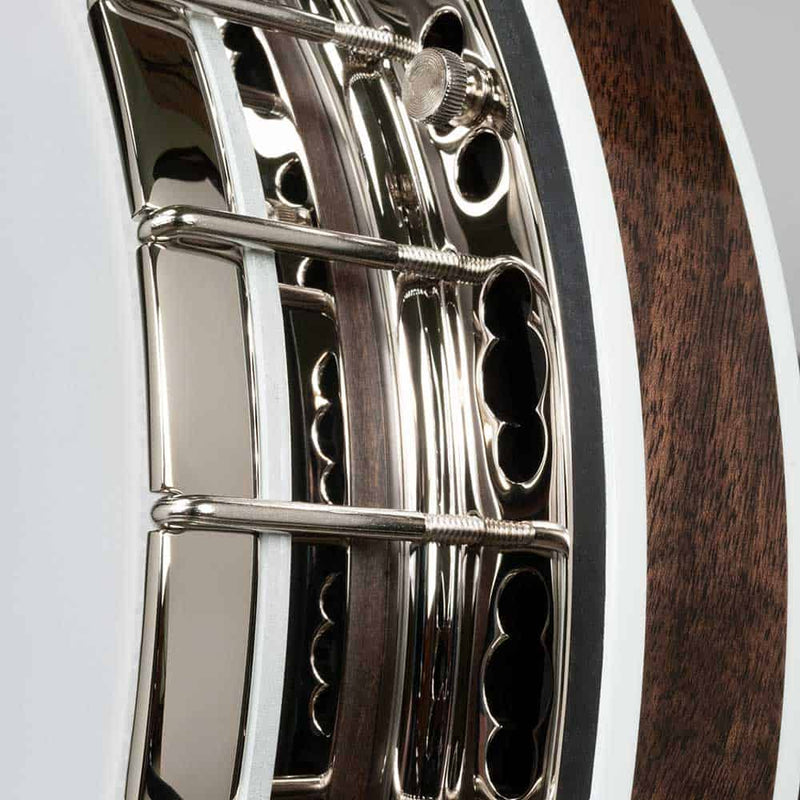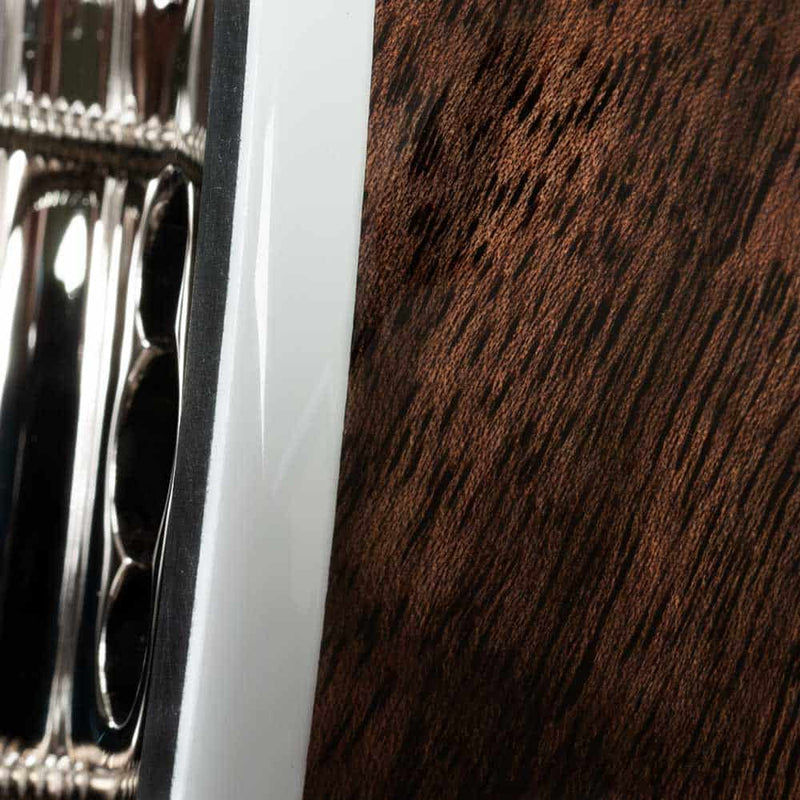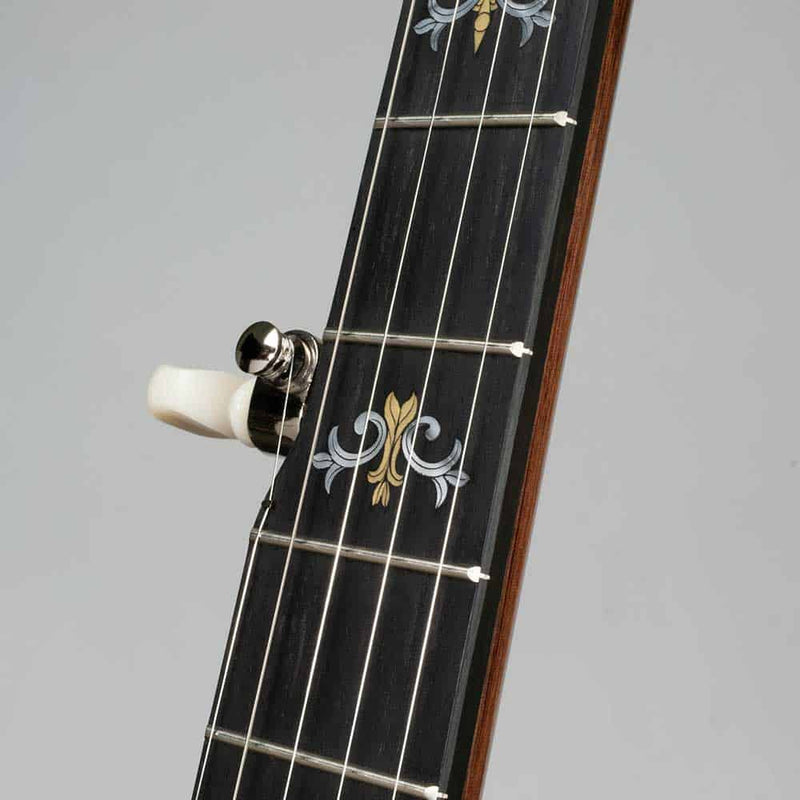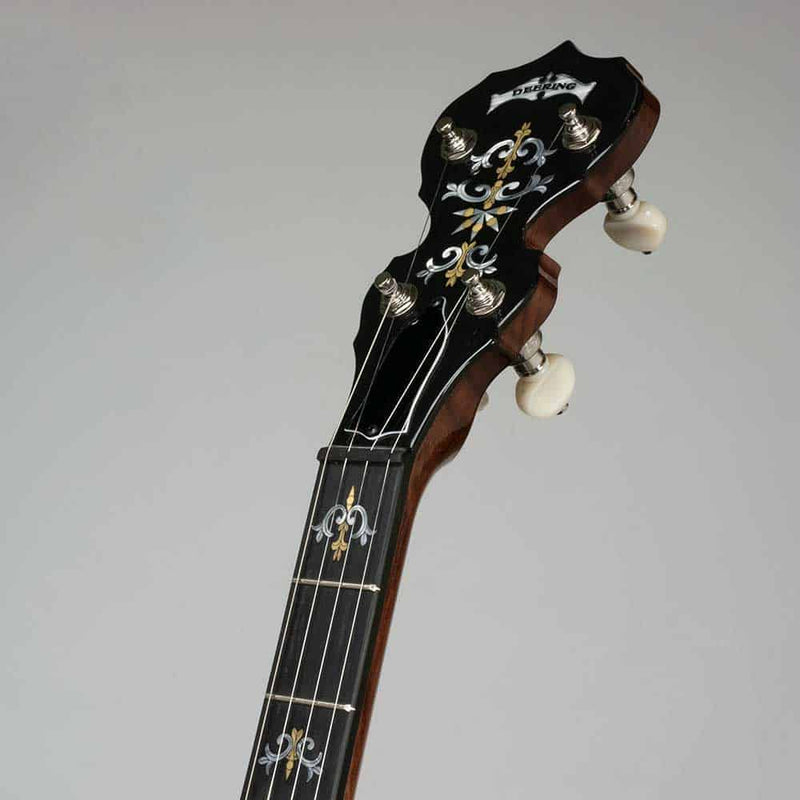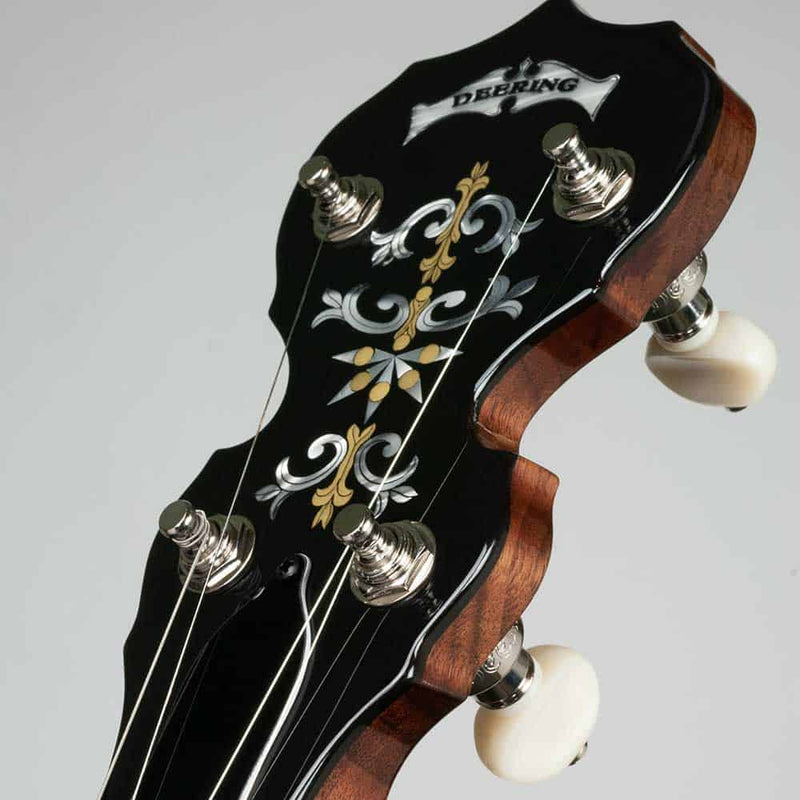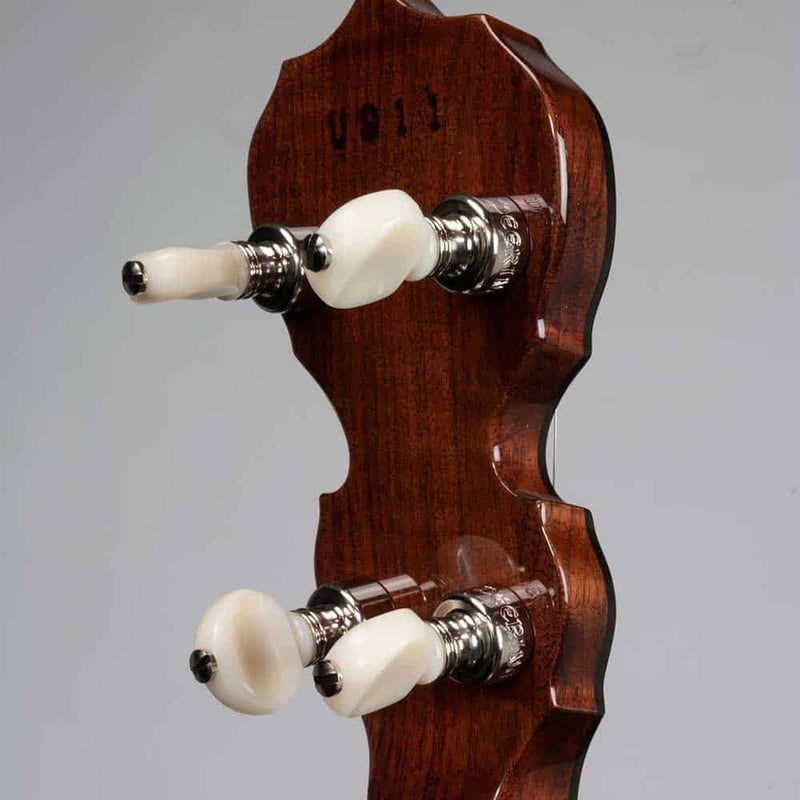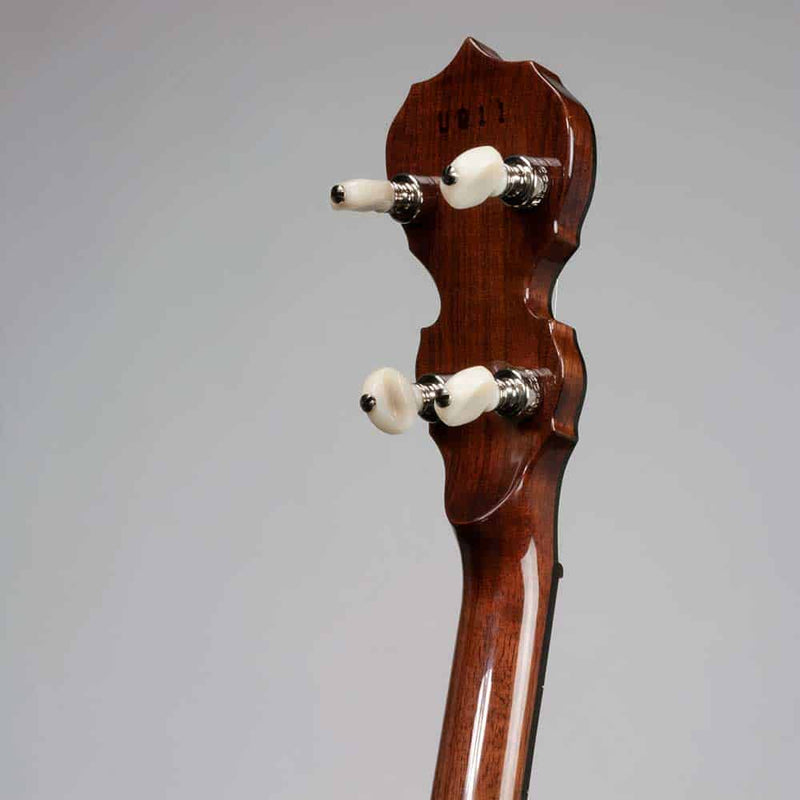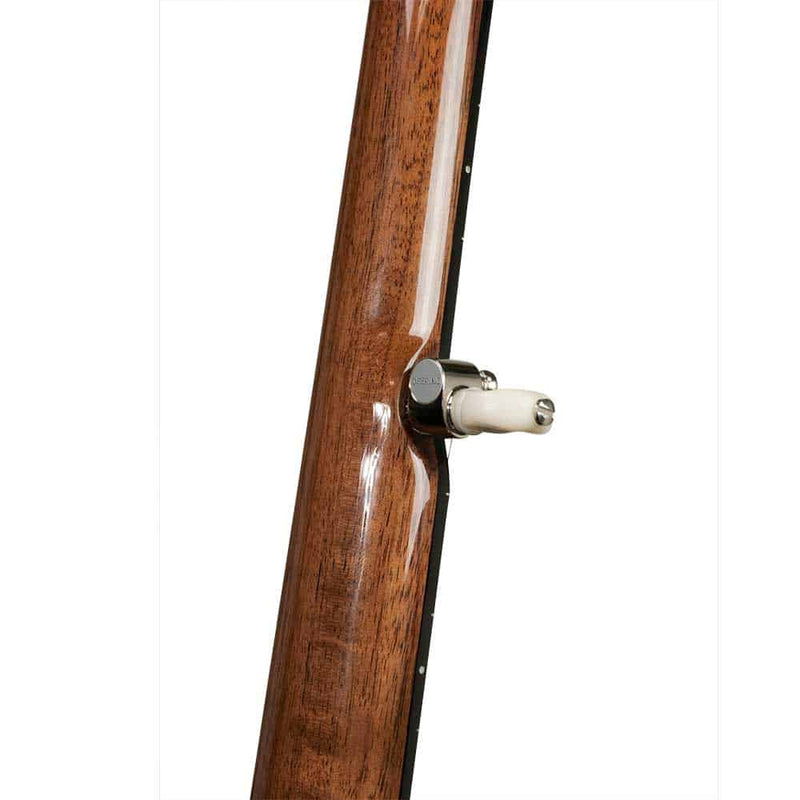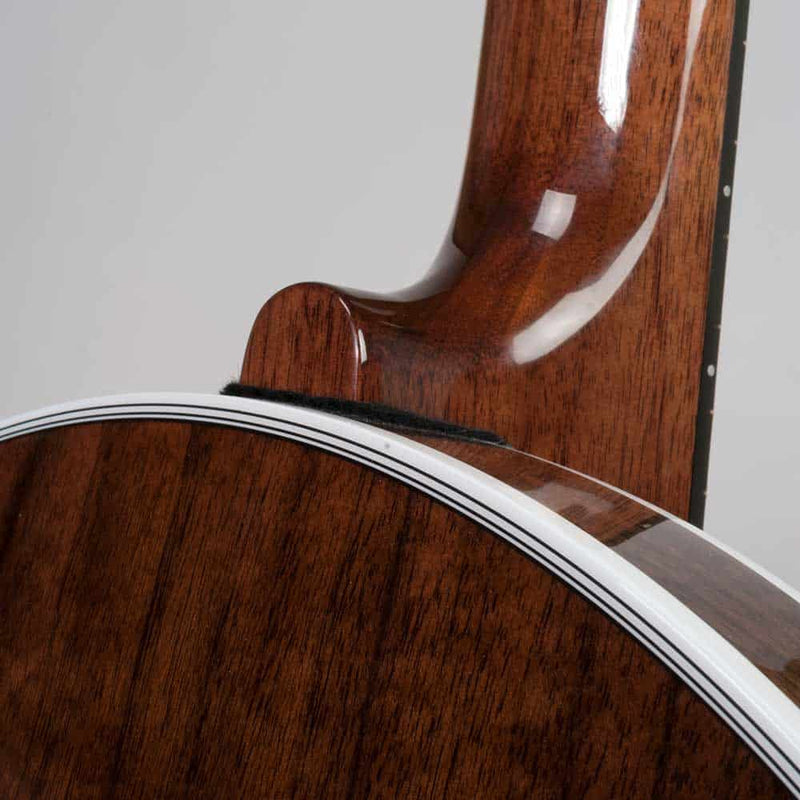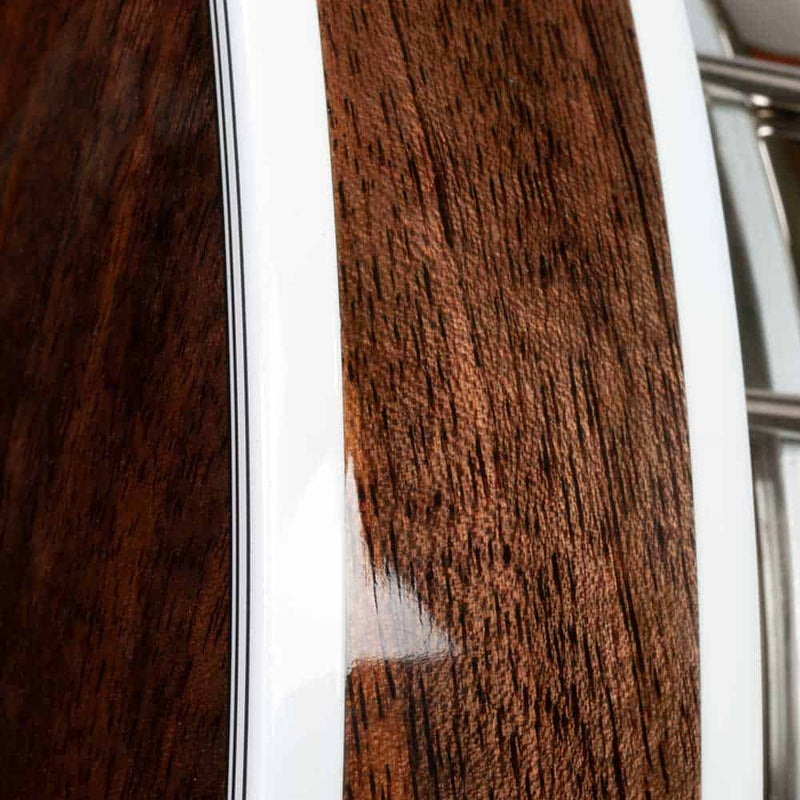 Now featuring a walnut neck, the Deering Deluxe truly stands out as a banjo with it's own tone.  The walnut neck gives the banjo a perfect balance of brightness and warmth.  When paired with our -06- bell bronze tone ring, the Deluxe comes alive and gives you a banjo that will stand out from the pack.
Built with Deering's genuine bell bronze tone ring, three ply violin grade maple rim and one piece, cast, zinc resonator flange, this Deluxe is as easy to play as it is beautiful.
The mother of pearl inlay in the peghead, is the very first Deering logo designed by Greg Deering for his first banjo in 1969. The multicolor binding and high gloss finish enhance the gold and perloid inlays on the exotic, natural ebony fingerboard. "The inspiration for the inlay artwork comes from the early Boston banjo masters. And if you look at the peghead of the Deluxe, it has some of the same elements as the Sierra, but it is much more expanded and it comes alive with the turn of the century Boston masters element – and that was just the design that flowed out onto the page. It's a lot of fun to have that kind of artwork on a banjo that people can afford. The first professional banjo we made was the Deluxe so it always has a very dear spot to us because it was the first professional banjo we made way back in '79." Greg Deering
One of Deering's oldest and most popular models, this banjo brings the power, easy playability and maintenance together in a beautiful, historically important banjo that is just as much at home on the front porch as it is on the road. It truly is a Deluxe banjo.
Features
Case:

Hardshell Case Included

Head:

11″ Frosted Top Medium Crown Head

Neck Wood:

Walnut

Rim:

Three-Ply Violin Grade Maple Rim

Style:

5-String Resonator Banjo

Tone Ring:

Deering -06- 20 Hole Bell Bronze Tone Ring

Made in USA

Deering Deluxe Banjos
NECK:
Walnut Neck
Natural Ebony Fingerboard
Original Deering Engraved Inlays of White and Gold Italian Pearloid
Slender Deering Neck Shape
22 Nickel-Silver Frets
Fully Adjustable Two Way Truss Rod
Deering Planetary Banjo Tuners
Deering Geared 5th String Tuner
High Gloss Finish
POT:
Deering -06- 20 Hole Bell Bronze Tone Ring
Three-Ply Violin Grade Maple Rim
Deering Brass Notched Tension Hoop
11″ Frosted Top Medium Crown Head
24 Round Hooks and ¼″ Hex Nuts
One Piece Cast Zinc Flange
Slender Shaped Armrest
Nickel Plated Hardware
Deering True Tone Tailpiece
RESONATOR:
Walnut
Trimmed in White/Black/White
Straight Inside Sidewalls
Gloss Finish
Deering Hardshell Case Included
TONE:
With the new walnut neck, the Deluxe features some of the characteristics found in both maple (brightness) and mahogany (warmth). Easy to play with clarity and good note separation.
TUNED:
G,D,G,B,D in standard G tuning
Can easily be tuned in other tunings as well.
STRINGS
Comes with Deering 5-String Light Gauge Banjo Strings tuned to in standard G tuning (G,D,G,B,D)
Gauges: 10 11 13 21w 10
End Type: Loop
DIMENSIONS:
Neck Width at the Nut 1 1/4″
Scale Length Nut to Bridge 26 1/4″
Resonator Diameter 13 7/8″
Rim Diameter 11″
Overall Instrument Length 38″
Weight Approx. 11 lbs
Due to ongoing product development efforts, specifications are subject to change without notice.